JGI RECEIVES PRESTIGIOUS AWARD FOR BIODIVERSITY CONSERVATION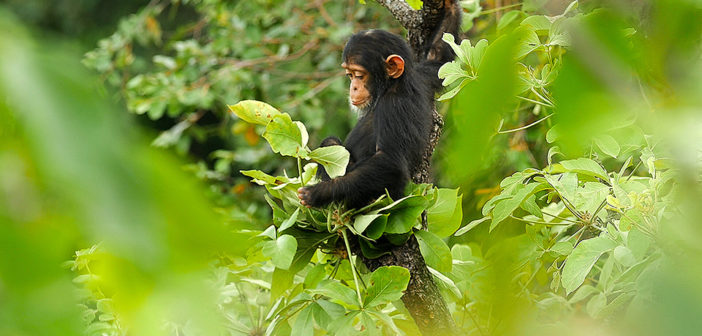 BY ASHLEY SULLIVAN ON OCTOBER 2, 2019
We're very pleased to announce that the Worldwide Award for Biodiversity Conservation was awarded to the Jane Goodall Institute! The award from the BBVA Foundation was given in recognition of JGI "for its extensive track record and major global impact in conserving biodiversity, particularly chimpanzees and their ecosystems in Tanzania, with a pioneering approach that privileges the involvement of local communities."
"I am truly thrilled and honoured at this recognition of the extraordinary work being done by all those forming part of our project in 34 countries ," said Goodall yesterday in reference to the award. "And I am sure that it will give a new impetus to our work, including the magnificent job being done by the Spanish group on our project in Senegal."
From Dr. Goodall's pioneering research in Gombe on the behaviour of chimpanzees (which continues through JGI to this day) to community-centered conservation created in response to the critical situation these primates are facing, this award regards the whole of Jane and JGI's work as singular and vital to species conservation.
"You can't ask people to protect chimpanzees," said the primatologist yesterday after hearing of the award, "when they have to struggle every day to meet their families' most basic needs." JGI's programs, to this end, supports local communities, including micro-credit programs, sustainable livelihoods, healthcare and educational resources, community mapping, land-use planning and forest management tools.
It is vital to get local communities engaged in conservation…We have achieved this goal in as many as 100 villages in the region, with training programs that have turned many young people into forest rangers who fight for the conservation of chimpanzees and are now very proud of their work.
Over the last 30 years, JGI has conserved more than half a million hectares of chimpanzee forests by creating new protected areas that cover 42% of their habitat in Tanzania. The success of this work has been replicated to preserve biodiversity and improve well-being in several other countries including Republic of the Congo, Democratic Republic of the Congo, Uganda, and in collaboration in Senegal, Mali, Cameroon, and several others of the next few years.
When discussing the dramatic loss of biodiversity, known as 'the Sixth Great Extinction', Goodall has said, "We have cut ourselves off from nature, despite the fact that we are part of it and depend totally on ecosystems for our survival." In response to both the "inexplicable" rise leaders who denounce environmental destruction and the essential need to protect the natural world, Jane and JGI believe in the power of young people, particularly like those young people demonstrating in the world's major cities. They "are our best hope for the future."
JGI is truly honoured and appreciative of this generous award, and will continue to deepen and expand a track record of holistic, meaningful conservation, research and empowerment for generations to come.
About BBVA
The protection of nature is an ongoing priority for the BBVA Foundation, which for over twenty years has supported research in ecology and conservation biology, conservationist projects based on scientific evidence, and the communication of knowledge and mobilising of social awareness around diverse facets of conservation. The runaway decline in biodiversity afflicting our planet means we depend more than ever on the people and organisations working to achieve meaningful, lasting outcomes in the protection of nature, like the winners in the fourteen editions of the BBVA Foundation Biodiversity Conservation Awards.