HOW YOU CAN MAKE A DIFFERENCE TODAY & EVERY DAY!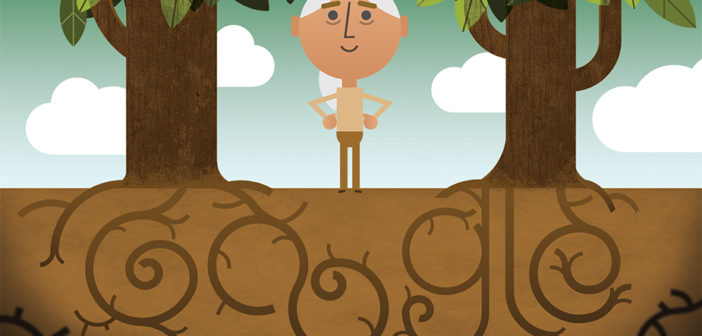 BY MAXINE LABERGE ON APRIL 21, 2018
Every year on April 22nd, we celebrate our shared planetary home, the birth of the modern environmental movement, and take action to protect natural resources and species. This year, Earth day was focused on recycling the plastic that is clogging and contaminating our oceans and vital habitats. But Earth Day is so much more than that, and there are so many ways to get involved! And, thanks to Google, Dr. Jane Goodall has a message as a part of this year's Google Doodle to show us all the way to grow a greener and bluer world!
Matthew Cruickshank was the lead artist (Doodler) on the project, a graphic designer, illustrator and animator, who has worked with Disney and Warner Bros. He shares, "What a joy to collaborate with Jane Goodall on Earth Day. I can think of nothing more important than celebrating life through shape, colour, design and movement – attributes the natural world gives us every day. How lucky we are."
Make Your Difference
There are millions of ways you can become more environmentally friendly – but you certainly don't need to do a million to make a difference! From the inspriation of this years Earth Day take some time to consider what changes you can make to promote a healthy planet and what your role is in our world. To get you started, here are some easy and obtainable ways for you to start making a difference!
EAT MORE PLANTS, EAT WITH CARE!
Make an effort at least one day a week (if not more) to go meatless. It's much easier to go meatless if you pre-plan your meals and make it an intention to go at least one day a week without consuming animal products. Learn more about how to Eat With Care here.
DRINK RESPONSIBLY
Get into a habit of bringing your water bottle with you wherever you go. This will reduce the amount of plastic you are using by not having to purchase a plastic bottle during the day. You can also save a lot of paper by bringing your own mug with you to get coffee, and most coffee shops will give you a small discount for providing your own mug.
STRAWLESS AND FLAWLESS (& NO PLASTIC CUTLERY!)
Getting takeout usually entails a lid, a straw and disposable cutlery. Try to turn down these straws and forks whenever possible. If you really want to use a straw, check out these sustainable alternatives as a part of Lonely Whale's #StopSucking campaign! Also, try using reusable silverware when you are on the go, or if you are just bringing your food home or back to work, use your own silverware.
RECYCLE
We've heard time and time again to make sure to recycle, but how often do we actually? Only 9% of the world's plastic is recycled (The Economist). Take those few extra steps to the recycling bin or set up a recycling station at home! Recycling your one little piece of trash might seem insignificant, but each item recycled means one less in our oceans or polluting ecosystems.
RIDE YOUR BIKE TO WORK
With summer just around the corner it's about time to take the bicycle out. Riding your bike to work isn't just good for the environment but it's good for you as well! Double win.
TURN OFF ELECTRONICS AND LIGHTS WHEN YOU CAN, AND INVEST IN LED BULBS
Turning off the lights whenever you can is the easiest possible way you can save money on your electric bill and help the environment! It can be hard to remember to turn off the lights when you're busy, but get into the habit of switching off all the lights in a room when you are the last one to leave. Also, invest in LED bulbs which will last longer and use less energy.
USE REUSABLE SHOPPING BAGS
Start keeping some reusable shopping bags in the boot of your car or at the bottom of your backpack for those last-minute trips to the store. If you have a large purse you can also put small items inside your bag – no need for plastic! Read more about how JGINZ is working to encourage New Zealand to go single-use plastic bag free here.
VISIT YOUR NEAREST NATIONAL PARK
Show your support for public spaces by visiting a park, going for a hike, or spending time with loved ones outdoors. Understanding the environment that we live in is the key to valuing its preservation and the animals that live within it!
DONATE TO JGI
JGI is making Dr. Goodall's vision for a world filled with vibrant, flourishing biodiversity and ecosystems, and improved well-being for people, a reality. Jane blazed the trail…the next steps are up to you!