FIVE THINGS YOU'LL LEARN IN DR. GOODALL'S MASTERCLASS
Good For All News - SERIOUSLY GOOD FOR ALL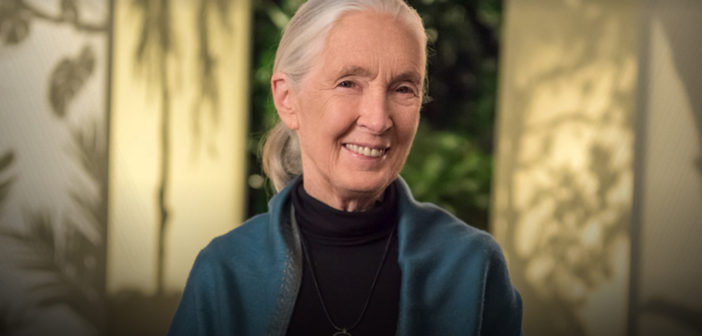 BY GABRIEL CLINGMAN ON NOVEMBER 29, 2017
For over 30 years, Dr. Jane Goodall has traveled the world sharing her passion for chimpanzees, and all wildlife, inspiring audiences to become responsible stewards of the environment. Now, for the first time, an online course taught by Dr. Goodall herself brings her expertise in conservation and activism right to your fingertips. The course, which is offered through MasterClass, covers a number of topics dear to Dr. Goodall's heart. From climate change and advocacy, to chimpanzees and animal intelligence, there is something of interest to both current and aspiring conservationists, as well as anyone looking to make the world a better place.
Here are five things you'll learn from the course:
CHIMPANZEE AND OTHER ANIMAL BEHAVIOUR
Anyone interested in animal behaviour will find a lot to love about this MasterClass, and who better to teach the wide range of chimpanzee and animal behaviour than Dr. Goodall? Dr. Goodall highlights a number of chimpanzee behaviours–many of which she observed first-hand in the forests of Gombe, Tanzania–that have helped scientists and animal behaviourists better understand the links between us and our closest living relatives. To help illustrate her points, video examples of chimpanzee behaviours in the wild often accompany her lessons. What's more, some of the stories she tells of her time observing chimps are stories she has rarely told before. You'll be pant-hooting (take the course to find out what that behaviour is) with joy from all the animal knowledge you can handle and more!
HOW TO EFFECTIVELY INFLUENCE PEOPLE'S OPINIONS
In order to successfully advocate on behalf of animals and wildlife conservation, one must avoid coming across as hostile and/or combative. That's the message Dr. Goodall shares in the lessons on influencing the opinions of others. The skill is more of an art than a science, one that she has perfected over decades of discussions and meetings with global leaders and stakeholders seeking her perspective. With the MasterClass, you're taught to adopt an influencing style that seeks to inspire while also bridging differences through storytelling that, as she puts it, "reaches the heart." In an era of social comment battling, this insight is not only extremely useful, but absolutely what we're all need.
POINTERS ON HOW TO GIVE COMPELLING PRESENTATIONS
Public speaking is a difficult skill for anyone to master, but the queen of entrancing speech, Dr. Jane Goodall, has tactics to share! Despite her many speaking engagements, Dr. Goodall admits she still gets nervous when presenting to a large crowd. A few lessons touch on presentation techniques she has come to use frequently. Of particular interest is her emphasis on striking a balance between using visuals and an appropriate amount of rhetoric. The focus is on providing tips for informative, relatable presentations that get your point across without putting anyone to sleep, and that includes using your own experiences and of course humour!
IMPORTANCE OF HABITAT PROTECTION
Habitat destruction threatens the existence of wildlife, and it is happening everywhere at a rate that is absolutely unimaginable. The point that Dr. Goodall emphasises in her lectures is that the problems facing humans and animals are interconnected, which includes the loss of habitat. It is difficult to hear Dr. Goodall speak of the deforestation she has witnessed in the forests of Gombe, but she urges us to look at our resources–their habitats–differently before it's too late.
THE POWER OF LOCALLY-FOCUSED ACTIVISM
One of the course's overarching tenets is that everyone can–and should–get involved in protecting the environment and the other life we share our world with. Whether it's through buying locally sourced food, eating less meat or bringing conservation issues to the attention of your friends/community, Dr. Goodall details what she sees are the best ways to build alliances with local groups and make ethical choices as an individual that have a positive impact on the planet and all living things.
BE LIKE JANE!
Dr. Goodall has led an extraordinary life, and uses this MasterClass to describe her initial passion for animals as a young girl in England, and how that dedication propelled her into a life of curiosity and a commitment to speak for those who cannot speak for themselves. If you are unfamiliar with her story or perhaps very familiar, this course will undoubtedly serve as inspiration to take action. One thing that always shines through is Dr. Goodall's love for chimpanzees, animals, and our natural world. Her lecture style is accessible for all ages and is great to do as a group, family, or on your own. To hear her speak passionately on these topics is reason enough to take the course. It is clear that Dr. Goodall has hope for the future, and much of that hope lies with the world's young people (see: JGI's Roots & Shoots) and all of us willing to use the gift of our lives to make a positive impact. Dr. Goodall has many reasons for hope, and taking this course will absolutely give you plenty of reasons, too!
TAKE THE MASTERCLASS NOW! SIGN UP HERE.