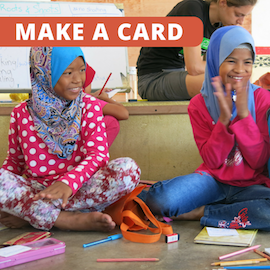 Here's what to do:
Send an encouraging card to local community partners like police officers, firefighters, or community volunteers Or, make a greeting card for someone who could use an extra reason to smile like a neighbour or a patient at the hospital. Get some stamps and mail your cards or deliver them with your group. Make your cards or use one of the downloadable cards offered below.


About the artwork:
A youth leader uses her amazing artistic talents to paint endangered animals and sell the art in order to support organisations fighting to protect them.
About the artwork:
Students painted pictures of gorillas in the wild with the hopes of drawing attention to their endangered species status.

"Card making is even more fun with others! If you want to spread compassion with cards, hold a card making party and invite your friends and family. Card making parties can be big or small and are fun for people of all ages."