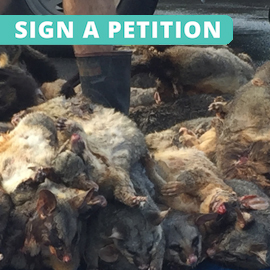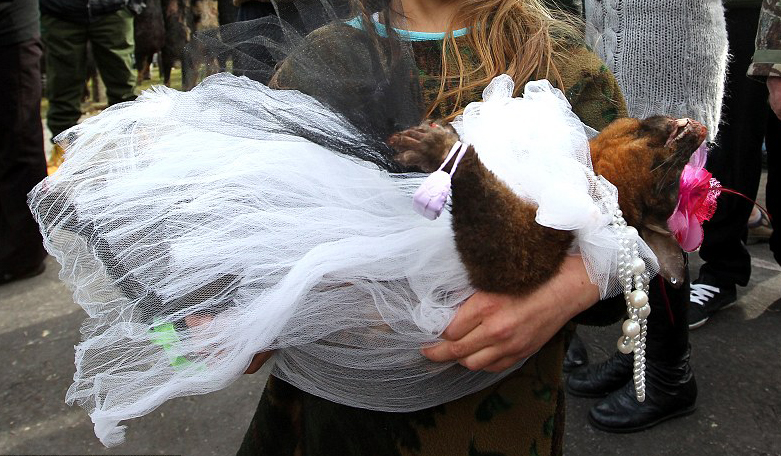 Across New Zealand schools are including animal hunts as a form of fundraising or school activity.
We have seen a pig and possum hunt that included a best dressed possum competition. The picture of a young girl holding a dead possum in a bridal gown highlighted a disconnect and sent a message around the globe regarding lack of compassion for these non-native animals and the way in which young New Zealanders are being guided.
Recently one school held their sixth annual possum hunt and this included a young girl in charge of taking joeys from possum's pouches and drowning them in a bucket of water.
The negative effects of these activities are two fold: firstly, the inhumane treatment of the animals and secondly, the detrimental impact such activities and messaging has on developing minds in relation to their connection to other living things.
Involving young children, who are in the process of developing their personal values, in possum hunts and the activities included in these events, is harmful. Undertaking these events in an educational context this is inappropriate.
Modelling compassion and consideration is what is needed.
Here's what to do:
Sign the petition that will be presented to the Minister of Education: Hon Chris Hipkins


Dr Goodall's statement on control of non-native species in New Zealand.
Conservation is a balancing act. Ultimate goals must be worked towards with care.
Around 3,000 of New Zealand's native species are 'threatened' or 'at risk', and around 800 classified as being at the risk of extinction. As such the NZ government, NGO's and communities have galvanised to eradicate invasive alien species by 2050.
JGI NZ accepts that control of these species may lead to enhanced outcomes for NZ's native species. However, for JGI NZ supporting restoration of environments, and populations of native species, is the focus we shall maintain. Our Roots & Shoots programme in NZ shall also support this restoration, rather than non-native species control.
I call on the NZ Government, organisations, communities and the people of NZ to ensure that if control of non-native species is to be undertaken that it is done so as humanely as possible, and with empathy and compassion. The task need not employ malice and disregard for living beings, who unfortunately find themselves to be in an unwelcome environment through no doing of their own.
This is especially important for our young people. Maintaining the highest standards of understanding, empathy and compassion shapes their view of all living things. This will benefit who they are today and the communities we have tomorrow.
- Dr. Jane Goodall

"If we want New Zealanders to be compassionate people who care about each other, our environment and the animals in our country we need to lead by example for our young people. By encouraging mistreatment and disregard of living things with our children we are setting them and ourselves on a path of greater disconnectin of head and heart. Schools especially should be places where we nurture positive attitudes of self and the world around us. Engaging in the mistreatment of animals is mis-education, cruel and morally indefensible. Help to stop these events taking place in our NZ schools"