Awareness Exercise: Refugees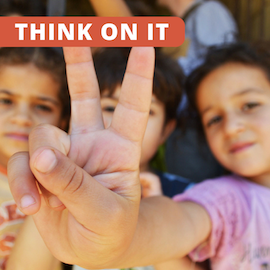 What if you had to evacuate your home and leave everything behind except what fit in your backpack?

Imagine that you are fast asleep when the sound of warfare and gunfire surrounds your home. A family member races into your room and says you are all in immediate danger. You must escape immediately. There will be no police or government agencies to come and save you. You have only a few minutes to grab the items you can carry on your back and you know you may never be able return to your home or your neighbourhood again. It may not survive the war anyways. You and your loved ones have a very long and dangerous road ahead of you in order to reach safety.
Here's what to do:
In the minutes you have to evacuate, what are the 5 things that you will pack in your bag? Share your list with a family member or friend and ask them the same question. What would they take? As Dr. Jane often reminds us, "only if we understand, will we care."


Knowledge is power. Read more about the refugee crisis from UNHCR.
Ready to take action? Click here for some things you can do to help refugees in New Zealand.

"Consider sharing your list on social media and asking your friends or followers to participate in this awareness exercise."