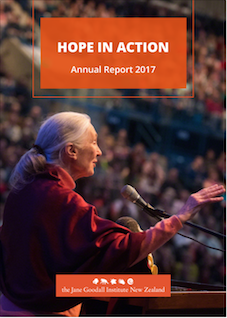 Hope In Action - 2017 For JGINZ
What a year it has been!
Enjoy reading about all the work and wonderful events that JGINZ undertook in 2017, the incredible year it has been and all the ways in which you helped animals, people and the environment prosper.
Read the JGINZ 2017 Annual Report
Dr. Jane sends thanks to supporters of JGINZ for an amazing year, and good wishes for the year to come.