THINK TWICE BEFORE YOU LIKE THAT CHIMP VIDEO ON SOCIAL MEDIA
Good For All News - CONSERVATION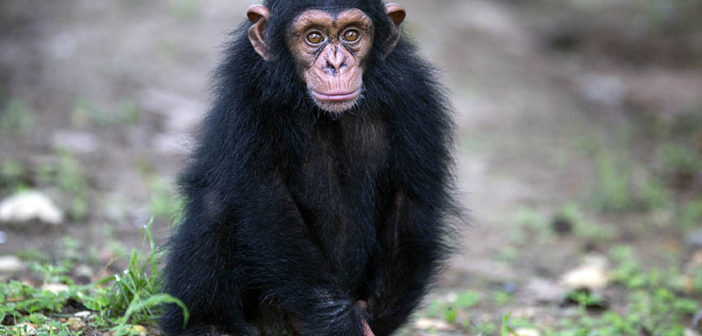 BY MADELINE MONROE ON JULY 14, 2018
You might check your newsfeed one day and see a cute baby chimpanzee dressed up in human clothing, but the story behind how the chimpanzee wound up in your feed isn't as cute. In the depths of social media, search engines and other platforms, individuals create services for those looking to profit off the sale of chimpanzees and other apes. As social media use soars and online spaces connect buyers to sellers of these chimpanzees, challenges grow for those wanting to stop illegal wildlife trafficking, but there is hope.
Illegal trafficking is one of the top three threats to chimpanzees, which are an endangered species. Every year, 3,000 great apes, including chimpanzees, are taken from their home in the wild or are killed as a result of illegal wildlife trafficking practices (Scientific American). Between 2005 and 2007, an estimated 22,000 great apes were either captured for sale or killed (Stolen Apes Report). The result is devastating. Great apes are social animals and as individuals are lost, entire groups suffer. In many cases, entire communities may be wiped out so that poachers can secure one infant alone (BBC).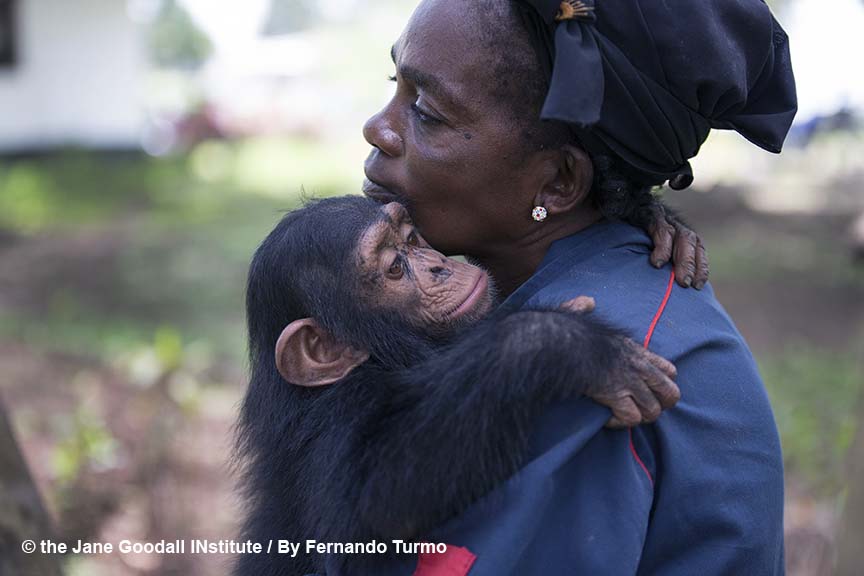 Social media has changed the way the illegal pet and animal trafficking trade operates, as interested buyers can reach out to traffickers through social media messages. Traffickers advertise animals often dressed up in human clothing in alluring pictures. Slang can also fool the unwitting: "otan" means orangutan in the trafficking world (NYTimes). Worst of all, illegal trafficking of wildlife continues to be lucrative, especially for those at the top: baby chimpanzees can sell for $12,500 or more (BBC). The people who profit from this trade often end up eluding arrest, however, and those under them (who are often underpaid with no alternative options for income) are punished instead (NYTimes).
When chimpanzees are illegally trafficked, they are used for entertainment, sold as illegal pets, or kept at unaccredited roadside zoos. These chimpanzees often become problematic for those who keep them, as they are complex, wild animals who require stimulation and can become large and aggressive. For chimpanzees sold into the illegal pet trade, they often suffer in isolation when raised inappropriately by humans. When these humans can no longer care for the chimpanzees or tire of them, they often leave them in a place unsuited for their care.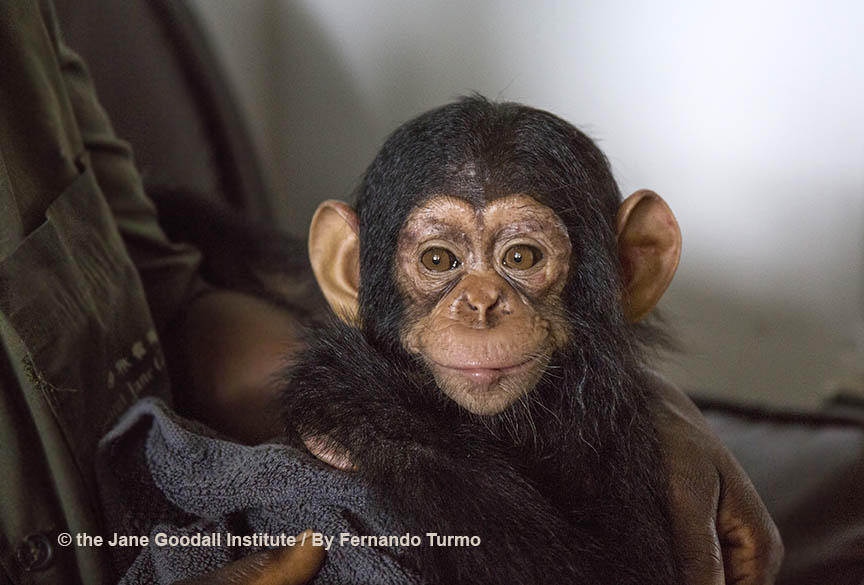 If rescued, the road to recovery isn't easy. Rehabilitation is demanding and requires adequate resources and funding. Many of these chimpanzees have lived through trauma, and even if a chimpanzee is rehabilitated, there's no guarantee it can be released into the wild. Some organisations like the Jane Goodall Institute have made strides in chimpanzee rehabilitation. JGI's own Tchimpounga Chimpanzee Rehabilitation Center rescues and helps chimpanzees who have either been illegally trafficked or been afflicted by the bushmeat trade. Tchimpounga and JGI Congo also work to provide environmental education, alternative livelihoods, and work with law enforcement to prevent trafficking in the first place. Thanks to visionaries like Dr. Rebeca Atencia, executive director of JGI Congo and manager and head vet at Tchimpounga, and JGI staff, some of the rescued chimpanzees at Tchimpounga are able to live on the three sanctuary islands in a safe, natural habitat with other rescued chimpanzees.
Luckily, wildlife activism has also been changed by social media. In response to the investigation by the NYTimes, Instagram altered its search engine to advise individuals about the implications of wildlife trafficking when they search for terms potentially associated with the illegal practice (Fast Company). In March of 2018, a tech coalition (including Etsy, Facebook, Ebay, Google and Instagram) formed to pledge to reduce the amount of wildlife products sold online by 80% by 2020 (NatGeo). JGI also launched Jane's Traffic Stop, a campaign to end illegal wildlife trafficking by raising awareness about its impact on and exploitation of endangered species and humans themselves. From live chats to petitions, Dr. Jane Goodall, JGI and partners passionately advocate against the illegal wildlife trade because animal life and human life is at risk. Jane's Traffic Stop successfully accrued more than 320,000 signatures on its petition to tighten anti-trafficking regulations. JGI's Roots & Shoots youth program One-Click campaign to end wildlife trafficking still exists here that you can sign and share with your friends, and there is another One-Click for the #StoptheShow campaign to end use of chimps in entertainment here.
As the success of Jane & JGI's campaign shows, social media is a powerful tool to combat wildlife trafficking on its own turf. The most important tool we have as consumers is to speak up and put pressure on social media companies to create better reporting tools and crack down on any illegal wildlife trade on their platforms. Avoid liking or sharing posts that obviously show chimpanzees as pets and/or to report that content to have it removed as animal cruelty. Anyone, including you, can use your voice and vigilance to end the illegal wildlife trade.