Jane's Traffic Stop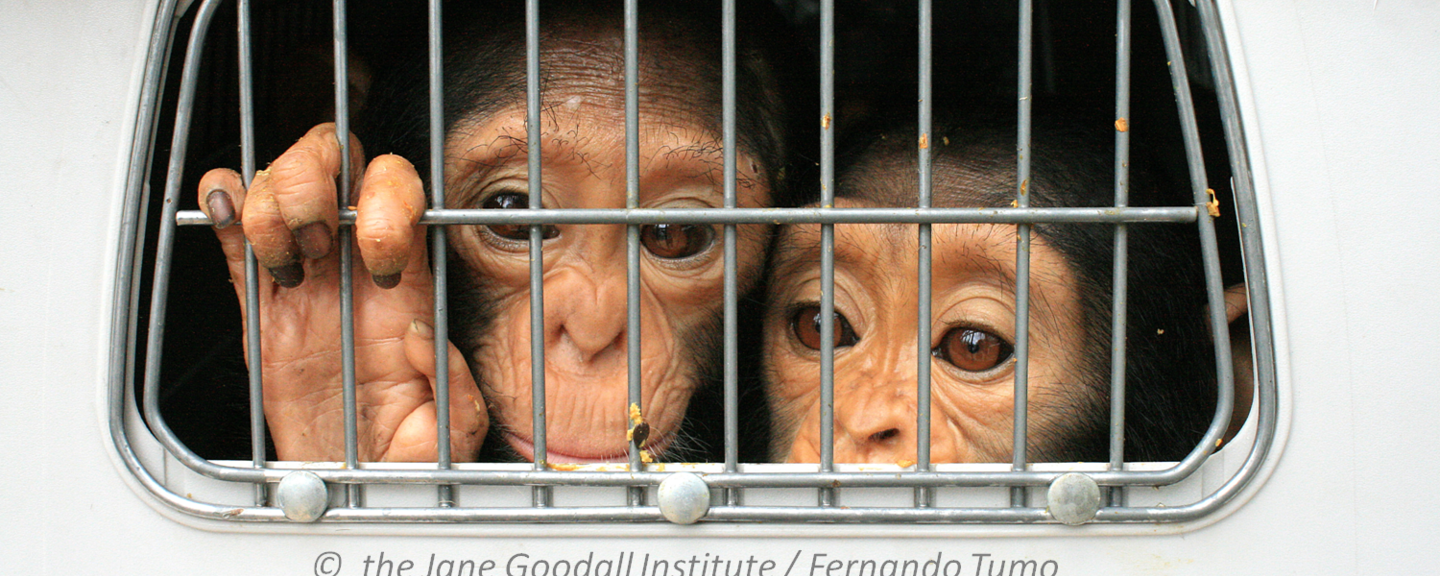 Greed and the desire for increasingly rare "trophies" have resulted in a boom in illegal wildlife trafficking. This gruesome trade is rapidly pushing the earth's endangered species toward extinction.
10 chimpanzees die for every 1 captured alive

Environmental crime is a 23 billion dollar industry

At least 3,000 Great Apes are illegally seized and sold every year



As a conservation charity that works on the ground in a number of African nations and with incredible global partners, we know of the slaughter of incredible animals and also the heroism and loss of life of Rangers who defend wildlife against poachers.
Our Tchimpounga Chimpanzee Rehabilitation Center cares for apes who have been maimed by lethal snare traps, monkeys suffering from bullet wounds, and infant chimpanzees who have been pried from their mothers after she was shot dead by poachers, her body headed for markets where people illegally purchase chimpanzee meat. The chimpanzee infants who come to us are often gravely injured, severely ill and suffering from deep psychological wounds that may never heal. They, however, are the lucky ones. The infants who do not make it to Tchimpounga are often trafficked into the illegal exotic pet or entertainment trades, destined to lead short, lonely lives filled with pain and abuse.
This is not a simple issue, but one filled with examples of the intense pressures of poverty, lack of training in enforcement, governmental corruption, and the careless demand for wildlife products by global consumers destroying our world's most precious species, and it needs to stop.
The facts reflect the urgency of this crisis:
35,000 elephants a year are killed for ivory.
Poaching of rhinos went up 9,000% from 2007-2014.
73 million sharks are killed each year for their fins.
A 2014 survey showed there may only be 3,200 wild tigers left in Asia.
3,000 great apes (including chimpanzees) are illegally killed or stolen from the wild each year.
And these numbers may be estimates based on population sizes that don't even exist - as there are fewer and fewer animals left to poach each year.
The Jane Goodall Institute has created the Jane's Traffic Stop campaign. Our hope is that we will help stamp out wildlife trafficking for good by creating an enormous community of supporters on social media who will continue to hold key decision makers accountable in the fight against this violence. This movement needs you!
Campaign Objectives
Raise awareness about the issue of wildlife trafficking and empower individuals to use their voice to help bring an end to this trade, for all animals.

Encourage governments and agencies to bring in, or tighten, legislation relating to wildlife trafficking and improve enforcement of regulations.
How JGI Fights Wildlife Crime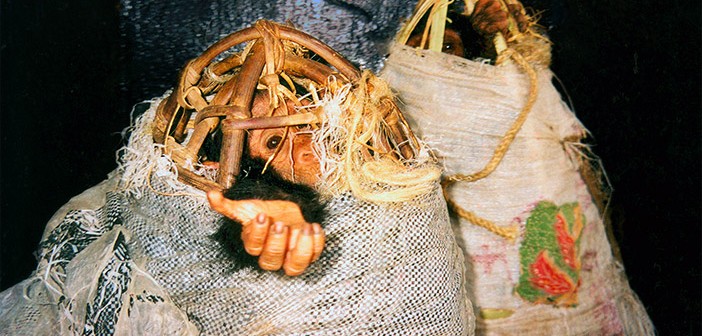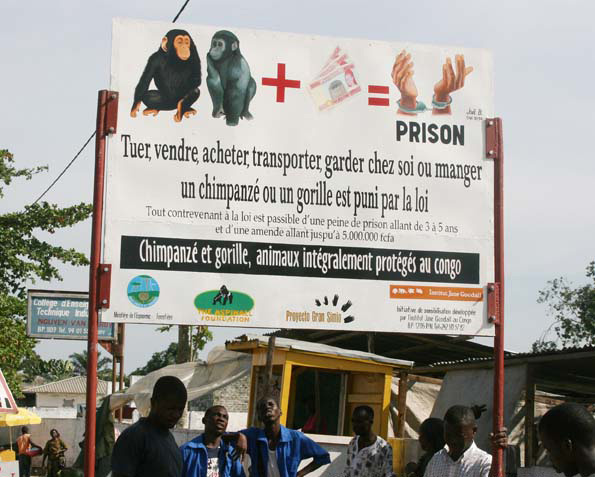 By supporting the Jane Goodall Institute (JGI) people are helping us fight wildlife crime. These are the ways in which JGI helps the fight.
Removing Lethal Snare-Traps from Uganda's Forests
Snare traps are a cruel (and illegal) hunting method used by poachers to snare a variety of animals. These traps kill indiscriminately, and unfortunately many endangered animals, including chimpanzees, are maimed and killed by these horrific devices. In fact, at least 25 percent of chimpanzees living in Uganda are suffering from a snare-related injury.
To save the likely victims of these illegal traps, JGI has an established special snare removal programme. Through this programme, JGI employs community members to find and remove these traps from the forest. Often these people are former poachers themselves, who know best where to look for these traps. By employing community members in this way, JGI provides them with an alternative to illegal poaching in the form of saving the wildlife they once hunted.
Educating Local Communities About Wildlife Crime
'Bushmeat' is meat from wild animals that have been hunted in their natural habitat, and is widely sold at markets all over the Congo Basin. Unfortunately, the meat from endangered species, such as chimpanzees, can be found in these markets. Not only is killing great apes for meat killing off populations of these endangered primates, it is illegal.
To encourage people to stop hunting great apes, JGI's billboard campaign brings awareness to areas where the bushmeat trade is especially active. These billboards are placed on roads to markets, and explain that it is illegal to violate wildlife protection laws, and those that do so risk prosecution. They also encourage people to consider endangered species like chimpanzees and gorillas as part of their national heritage. Something worthy of protection. JGI also reaches out to the same audience via radio advertisements with a similar message.
Providing A Home For Confiscated Chimpanzees
It is illegal to keep a chimpanzee as a pet in the countries in which JGI works, but that doesn't stop some poachers from selling young chimpanzees into the illegal exotic pet market. A problem faced by law enforcement officials when enforcing this law is what to do with a chimpanzee that is confiscated from a poacher, or someone who is keeping one as a pet.
This is why JGI set up our Tchimpounga Chimpanzee Rehabilitation Center in the Republic of the Congo, what has become the largest chimpanzee sanctuary in Africa. Tchimpounga not only supports enforcement of anti-poaching and illegal exotic pet laws by giving officials a place to take confiscated chimps. Tchimpounga also commits to the lifetime care of every chimpanzee brought to the sanctuary. Chimpanzees at Tchimpounga are nursed back to health and eventually join their peers and form life-long bonds with other chimpanzees in their group.
Providing Sustainable Livelihoods
Poaching is illegal and a serious wildlife crime, but often those who hunt for bushmeat are only doing so out of necessity, to feed their families. JGI helps address this issue by providing families in target areas with alternative, sustainable livelihood options.
These livelihoods include beekeeping, growing fruit trees and breeding livestock. Through these legal and more environmentally-friendly opportunities, people who were once forced to engage in wildlife crime activities can instead provide for their families and communities while easing the pressure on local wildlife.
Help support the work of the Jane Goodall Institute
New Zealand's Impact on Wildlife Trade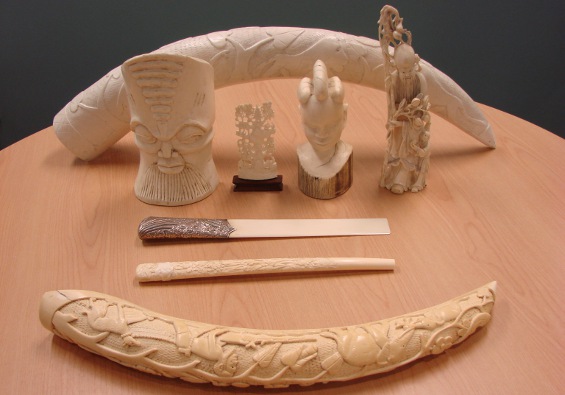 New Zealand is most surely included in the web of illegal wildlife trafficking. Regularly confiscated items at the New Zealand border include coral, clams, shells, leather products, seahorses and butterflies, along with various body parts of turtles, tortoises, and crocodiles. Amongst the more unusual items are skulls of primates and alligators, leopard and tiger skin, and parts of the critically endangered pangolin - which is the most illegally traded wild mammal in the world.
Wildlife products arriving illegally in New Zealand also included traditional medicines. Many of these contain ingredients that come from a range of endangered animals including from tiger claws, lion bones, rhino horn, pangolin, bears, turtles and more.
Ivory Trade in New Zealand
Despite international commitments and actions, it appears that New Zealand, a party to CITES, considers ivory trading to be an acceptable business.
A recent study by the International Fund for Animal Welfare (IFAW) reported that 64 percent of the 1,318 ivory lots for sale at auction houses in New Zealand and Australia were made entirely of ivory, including carvings, figures, jewellery, okimonos (decorative objects), netsukes (small sculptural objects), and raw and carved tusks. It's clear that demand for ivory in New Zealand remains high. It's the same kind of demand that drives the current elephant poaching crisis in Africa.
Despite a strict international import and re-export permitting regime, equating broadly to an international ban on commercial ivory trade since 1989, there are no legal requirements within New Zealand for domestic ivory traders to provide any provenance information. As Africa continues to lose one elephant every 15 minutes to the illegal ivory trade, on the other side of the world in New Zealand,­ seemingly unconcerned—or perhaps uninformed—buyers continue to spend tens of thousands of dollars each year perpetuating a lucrative, unregulated and unmonitored, domestic ivory trade.
To potential New Zealand buyers:
Refrain from purchasing any elephant ivory or rhino horn parts or products. If purchasing, only do so where appropriate certification and/or provenance information is provided prior to purchase.
Report any instances of suspect wildlife trade to the relevant enforcement authorities in New Zealand - cites@doc.govt.nz
To the New Zealand Government:
Introduce offence provisions for cases where wildlife are offered for sale without the necessary proof of legality. This will place legal responsibility for the sale of wildlife products on prospective sellers.
Increase resources to relevant management and enforcement authorities to ensure international and domestic regulations concerning the trade in wildlife products are better enforced.
Hope In Action - No Domestic Trade
Australia and New Zealand are calling for a ban of the ivory and rhino horn trades in both countries, through regulatory change that currently allows for domestic trade of these items, and thus contributes to the death of thousands of elephants and rhinos each year.
Background
In 2014 Dr. Goodall joined prominent New Zealanders in adding her support in an open letter to the New Zealand government urging them to consider a complete ban on all ivory trading in New Zealand and to crush the Crown's confiscated ivory stockpile. The complete ban and the crush are aimed to alter the view of ivory as an acceptable commodity. "When the buying stops, the killing can too" WildAid.
In 2016, to mark CITES CoP17 and the Global March for Elephant, Rhino and Lion, JGI New Zealand and JGI Australia added their support to an open letter to the Australian Federal Government to enact a complete ban on the domestic trade of rhino horn and elephant ivory.
On World Wildlife Day, 3rd March 2018, a "Melbourne Crush" event was held by *For the Love of Wildlife* in collaboration with *Gordon Consulting* - As part of the *No Domestic Trade* campaign. The event was supported by JGINZ and JGIA, and Dr Goodall and Rt. Hon. Helen Clark. The event was hugely successful in increasing awareness and sending the message that regulatory changes need to be put in place. Until such time JGINZ will support the campaign to end domestic trade in New Zealand.
#Gone4Good #NoDomesticTrade #JanesTrafficStop
Take Action with our No Domestic Trade 1-click campaign
To read more about how New Zealand and Australia are contributing to the demise of elephants and rhinos read "Under the Hammer". New Zealander Fiona Gordon, an environmental policy analyst, and JGI New Zeland Ambassador, is the principal researcher and co-author of this report.
Read Now
For further information about wildlife trafficking, or supporting the Jane Goodall Institute New Zealand's efforts to raise awareness about the issue please contact us.
Contact us for more information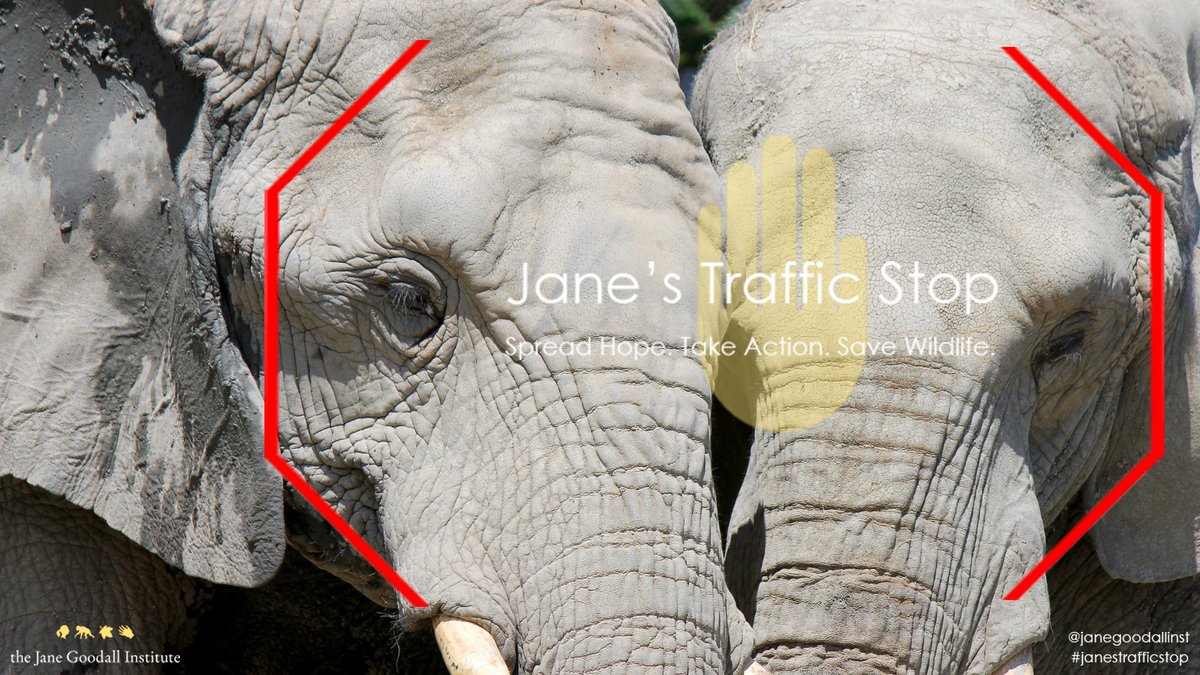 Take Action
Share what you've learned. We believe that one voice can be turned into millions of voices, which will create the necessary level of change to save thousands of lives.
Stand up to wildlife trafficking by signing this petition to show your support, read more on this issue and help bring this message of hope to groups like the IUCN, the International Primatological Society and CITES, and to people who may be inadvertently or directly encouraging the continuation of trade in wildlife.
See our 1-click campaign and sign and support to see the end of the domestic trade of elephant ivory and rhino horn in New Zealand.
We must tell the world that wild animals were not put on the earth to be hunted to extinction and sold off in pieces as trinkets and trophies. We also must not support the business of wildlife trafficking, and shop with a greater awareness to avoid buying illegal animal products or support companies that do. Each of us is only one voice in the fight to stop illegal wildlife trafficking, but together our message will be impossible to ignore.